Our Kawai grand piano covers are custom manufactured in the United States, and combine unmatched craftsmanship, premium-grade materials, and exceptional customization. With a focus on creating an attractive and professional look, our covers not only protect your piano but also elevate its visual appeal, adding a touch of elegance to any setting. Handcrafted by our seamstresses with decades of experience, discover the perfect blend of superior craftsmanship, durability and style with our exquisite Kawai piano covers.

We have brand-specific templates for the most popular Kawai pianos. To order, select your size of piano from the drop-down menu, and choose from our wide range of options.

Kawai Grand Piano Models and
Sizes:
Kawai GM1:

4'9"

Kawai Models GM10, GM2:

5'0"

Kawai Models GE1, KG1C, KG1D, GE20:

5'1"

Kawai Models CP200, CP205:

5'3"

Kawai Models KG-1E :

5'4"

Kawai Models KG1A, RX1, GE30:

5'5"

Kawai GE2:

5'7"

Kawai Models KG2, RX2:

5'10"

Shigeru Kawai SK2:

5'10"
Kawai Model GX2:

5'11"

Kawai Models KG3, GS30, GS40, RX3:

6'1"

Shigeru Kawai SK3:

6'1"
Kawai Models GX3:

6'2"

Kawai Models RX5:

6'6"

Shigeru Kawai SK5:

6'6"
Kawai Models GX5:

6'7"

Kawai Models KG5:

6'8"

Kawai Models GS50, GS60:

6'9"

Kawai RX6 :

7'0"

Shigeru Kawai SK6:

7'0"
Kawai Models KG6, KG7:

7'4"

Kawai GS70 :

7'5"

Kawai RX7 :

7'6"

Shigeru Kawai SK7:

7'6"
Kawai GS80 :

8'2"

Shigeru Kawai SK-EX:

9'0"
Kawai Models KG8, GS100:

9'1"

Shigeru Kawai SK-EX-L:

9'1"
Share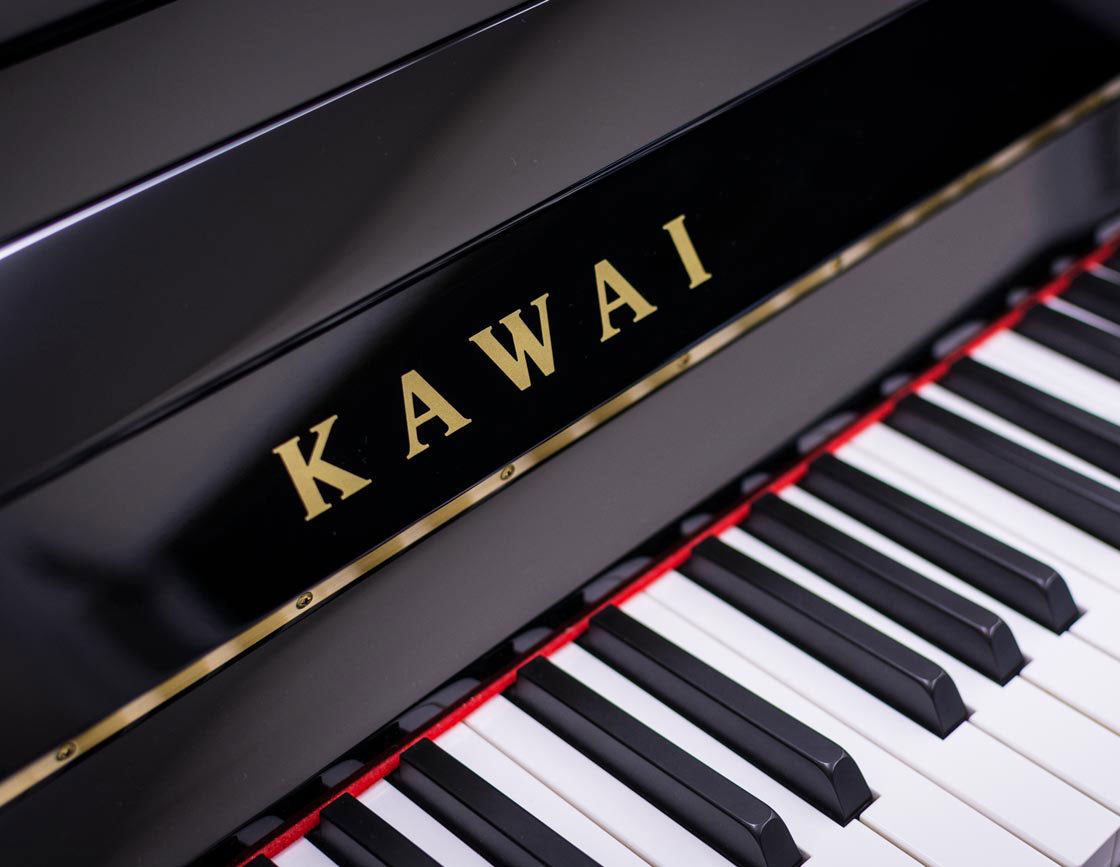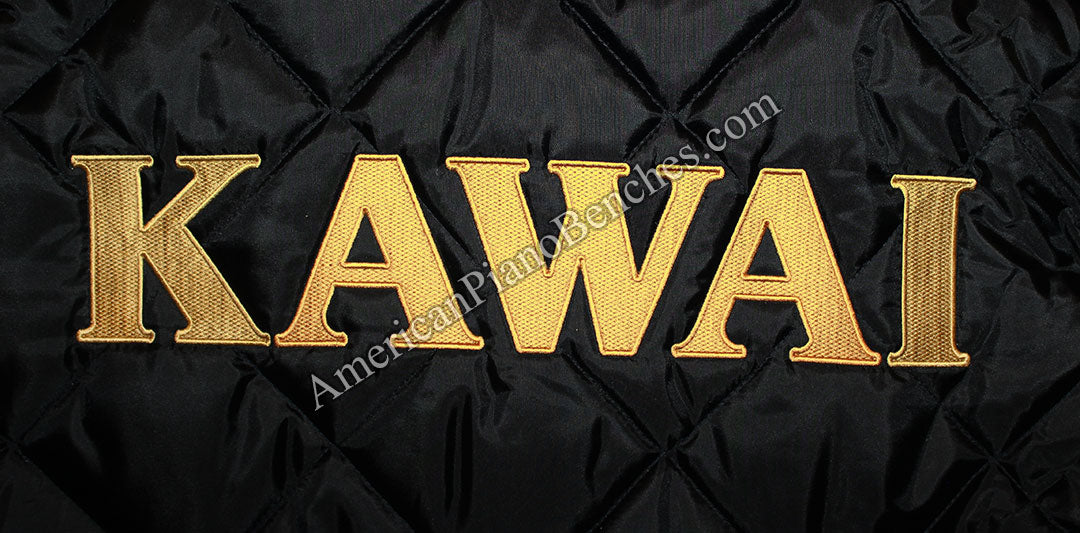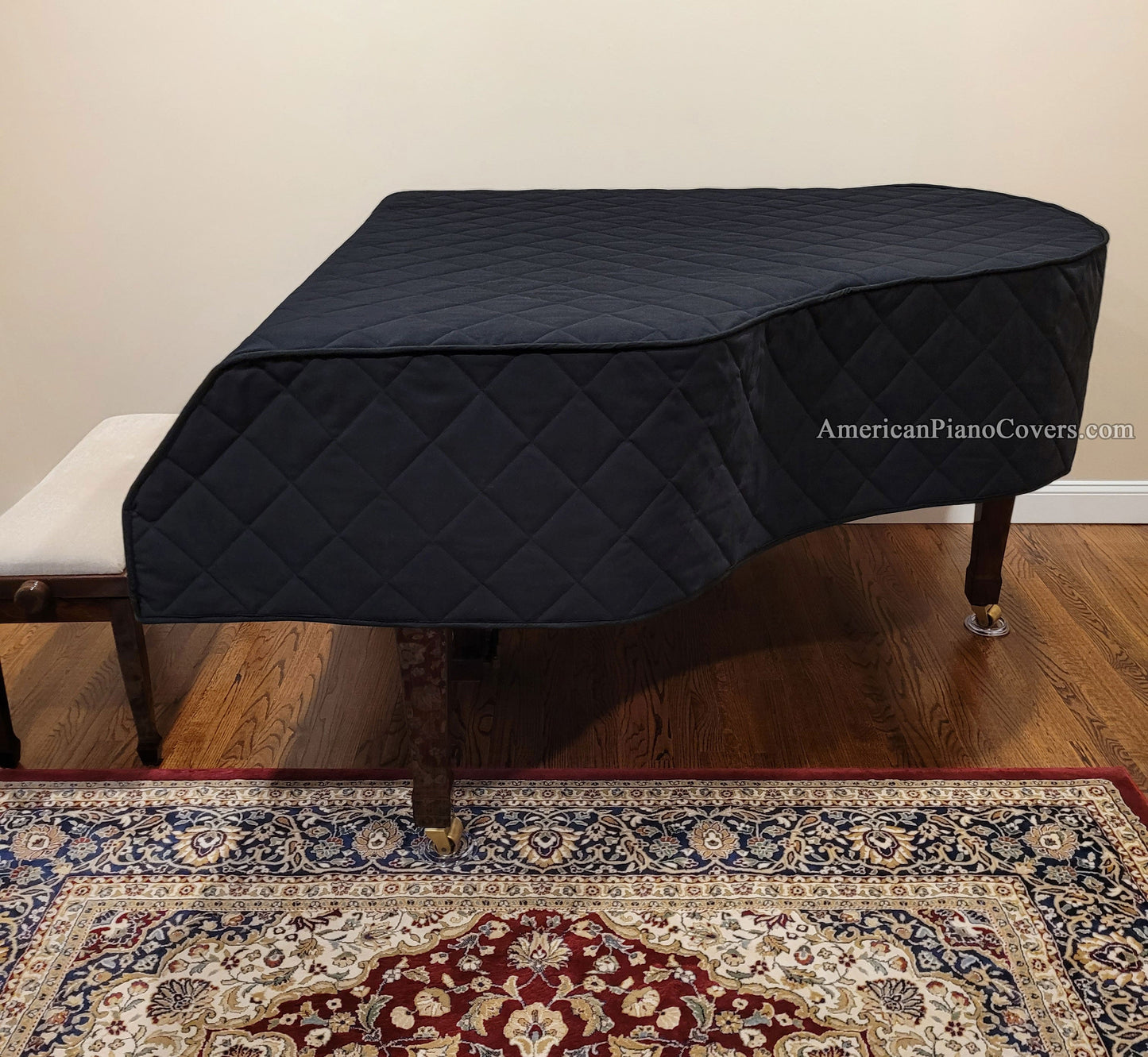 Material Choices
The foundation of a piano cover is the quality of the materials used. We have spent years working with American material suppliers, carefully reviewing and selecting the finest materials for their aesthetic appeal, protection, durability, and functionality. We are confident that we offer the highest-quality, most attractive fabric options on the market.
Piano Cover Material Guide
Want help deciding between material choices? Click below for a detailed description of each fabric choice.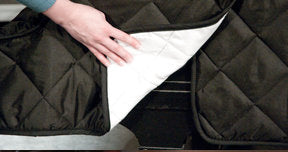 Side Slits
Side slits are designed to allow you to play the piano without having to take the entire cover off. Side Slits are put on each side of the piano cover, above the front legs. This allows the pianist to simply flip the front part of the cover back to play the piano, without having to completely remove the entire cover. This provides a seamless and convenient solution for those who require frequent access to their piano, without compromising on its protection. A very popular option, and added to the majority of covers.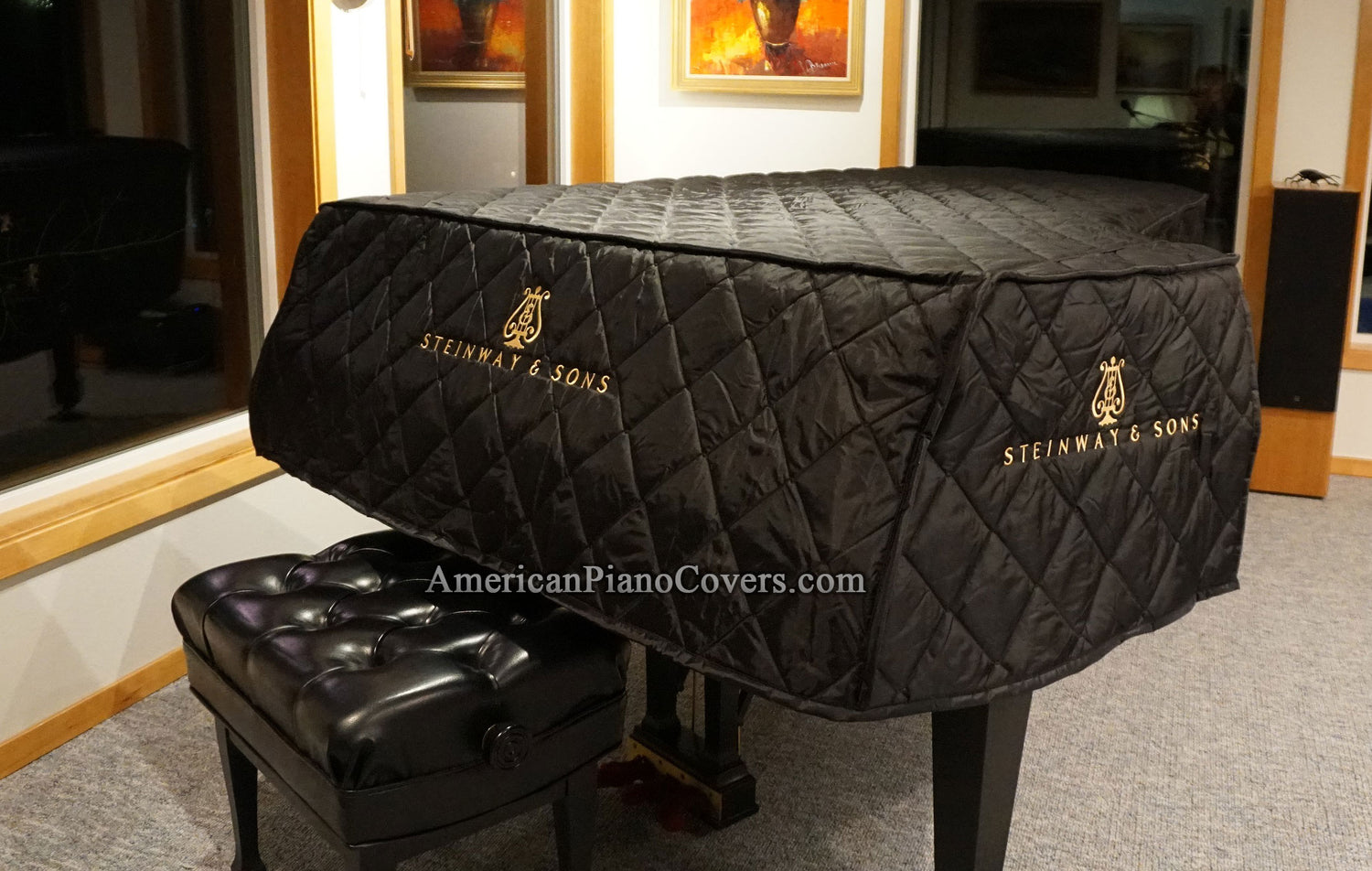 Embroidery (Logo)
For the ultimate look of luxury, we recommend custom embroidery for your piano cover. For an additional fee, we can embroider the piano brand logo on either the front of the cover above the keys, or on the right sideboard of the piano (located above the leg on the sideboard). A great way to highlight your beautiful instrument, even when it's covered. Embroidery comes standard in gold thread. Custom colors are available upon request.
For details on our industry-leading embroidery, along with some examples, please click the link below.
Read More: Piano Cover Embroidery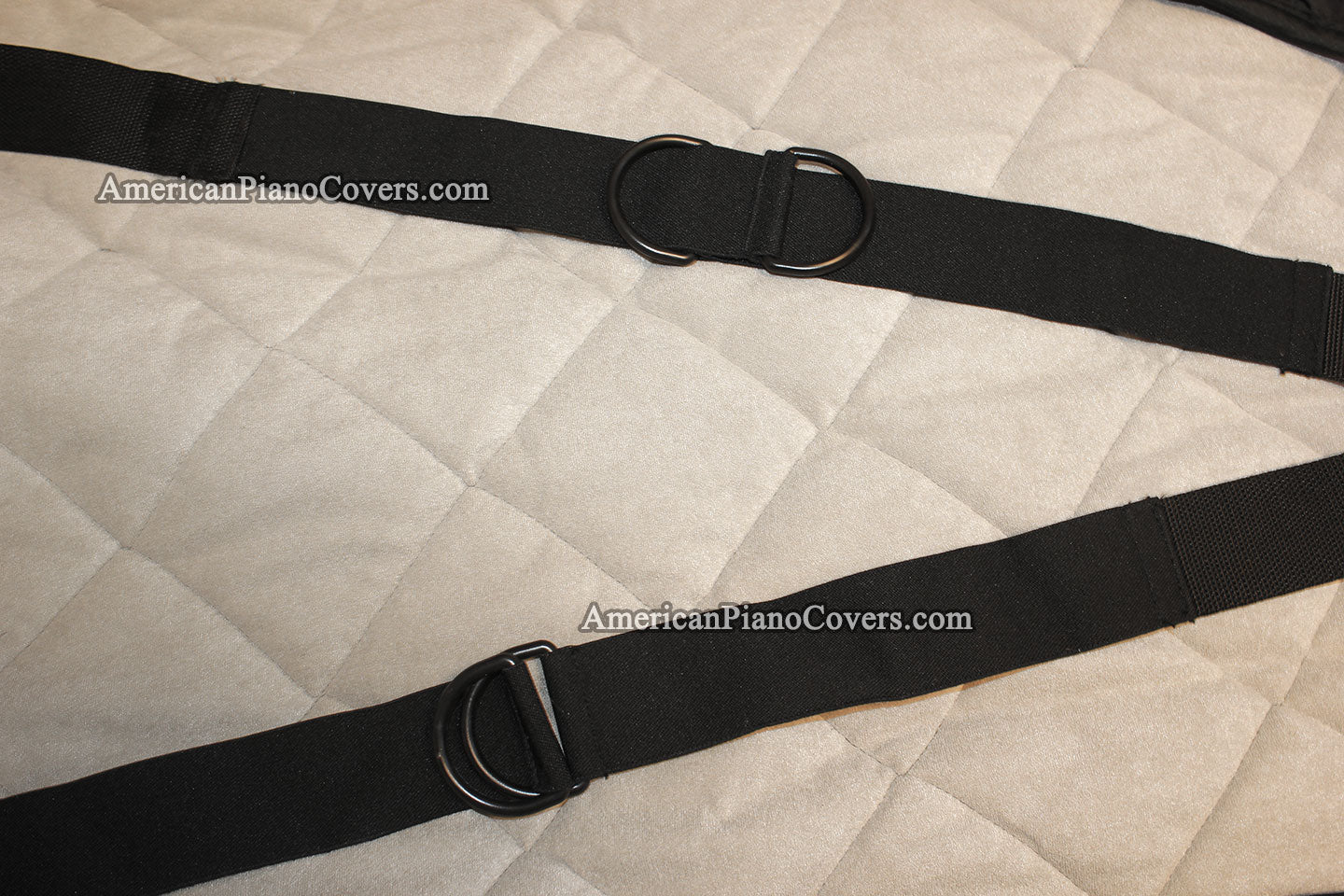 Locking Straps
Locking straps are a popular option when the piano is in an area where people will want to remove the cover and play it. The straps keep the cover in place, and act as an effective barrier against tampering. Many schools, hotels, resorts and churches add this option to ensure their piano stays safe and secure.
How do locking straps work? There are 3 straps sewn into the cover--one by each of the front legs and one at the back of the piano. The straps meet underneath the piano in the middle, forming a "Y" shape (note larger covers will use 4 straps, forming an "X" shape). At the end of each strap is a plastic D-ring. You turn one of the rings sideways and insert it through the other D-ring. When you turn it back, they will now be interconnected (as shown in the picture below). The cover is now securely on the piano, and the straps need to be disconnected in order to remove the cover and play. Note that if you need additional security, you can add a padlock to the D-rings, completely preventing someone from removing the cover without having the key to the padlock.
Shipping
Shipping on all grand piano covers is free to the continental United States. Shipping to Alaska and Hawaii is $79.95 per cover. Shipping to Canada is $89.95 per cover. International customers, please email us for a shipping quote.