We've Got You Covered
Welcome to our guide on how to measure your piano! As a pianist or piano enthusiast, knowing the precise dimensions of your piano is crucial for a variety of purposes, from selecting the right piano cover to ensure a perfect fit, to planning interior decor or transportation. In this comprehensive guide, we'll provide you with detailed instructions and expert tips on how to accurately measure your piano's dimensions, including height, width, depth, and more. With our step-by-step instructions and practical advice, you'll be able to confidently measure your piano and make informed decisions when it comes to protecting or enhancing your instrument. Whether you're a professional musician, a proud piano owner, or a piano technician, our guide on how to measure your piano will be your go-to resource for obtaining accurate measurements and ensuring the perfect fit for your piano cover. Unlock the secrets of your piano's dimensions with our comprehensive guide, and keep your beloved instrument well-protected and stylishly covered!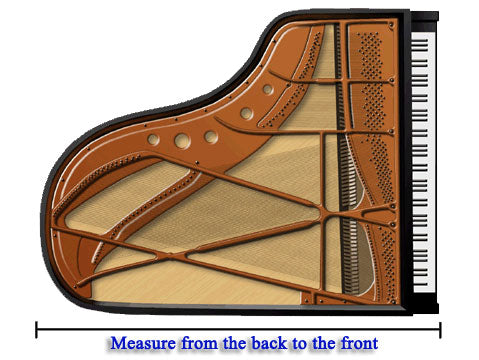 Grand Pianos
Grand pianos are measured by their overall length (all grand pianos are approximately the same height and width, so you only need to measure length). Close the lid of the piano completely when measuring, and measure from the center of the tail (back) to the front of the piano keys. You want to get the longest measurement of your grand piano, including the piano keys.
The sizes as well as the terms used to categorize the sizes of pianos vary from manufacturer to manufacturer, but here is a commonly used list for grand pianos:
4'8" to 5'1" - Baby Grand

5'2" to 5'7" - Parlor Grand

5'8" to 6'7" - Professional Grand

6'8" to 8'6" - Recital Hall Grand

8'7" to 9'2" - Concert Grand

Shop Our Grand Piano Covers
TIP! Piano Cover Length
A standard piano cover hangs 1"-2" below the bottom of the base of your piano. This is the most popular option, and is the cover you want in almost all situations. Full-length covers that run all the way to the floor can be custom ordered for an additional fee of 75% the price of the cover. A situation where you would want a full-length cover is if you lived in an extremely dusty part of the country. A full-length cover would help prevent dust from getting underneath and into your piano. Others consider a full-length cover if they are trying to control humidity and have a Dampp-Chaser system. If you are interested in a full-length piano cover, please email us the brand and size of your piano, and we will provide you with a price quote.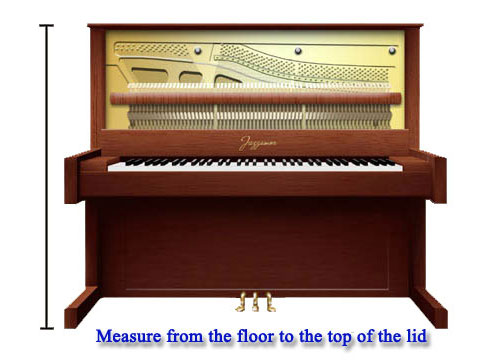 Upright Pianos
Upright (or vertical pianos) are measured by their overall height, from the floor to the very top of the lid. Measurements for vertical pianos are given in inches only (no feet).

Unlike grand pianos, which are all very similar in height and width and only need to be measured for length, upright pianos can differ in size significantly from one model to the next. To get a good-fitting cover, you will need to take 6 different measurements of your piano. We have included a diagram below to help you out. On the upright piano ordering page, you will notice a box to fill in each of the measurements below. The vertical piano covers are custom made, so please make sure to get the correct measurements.
Shop Our Upright Piano Covers
How To Find The Model Of Your Piano
Another way to determine the length of your piano is to find the model. Many manufacturers will stamp the model somewhere inside the piano, along with the serial number. Please note the serial number will only tell you the year your piano was built--not the model. Serial numbers are typically 4-7 numbers long, whereas piano models are often a letter, or contain a letter. On our piano cover webpages (based on piano brand), we provide lists of the most common models, along with their size. For example, if you find "C3" stamped on your Yamaha piano, you can reference the list on our Yamaha piano cover webpage, and see that the C3 measure 6'1" in length. Please view the below diagram to see common model locations based on the piano brand.