We Source Our Materials with You in Mind
Here you will find a comprehensive list of high-quality materials that we use to craft our piano covers, ensuring the best protection for your prized instrument. We have spent years working with American material suppliers, carefully reviewing and selecting the finest materials for their durability, functionality, and aesthetic appeal, ensuring that your piano receives the utmost care and attention it deserves. From premium quilted fabrics to mackintosh and vinyl materials, our piano cover materials are designed to provide excellent protection, style, and longevity--and we are confident that we offer the best fabric options on the market. Discover the exceptional materials that make our piano covers stand out from the rest!
To see how our piano cover materials compare to that of other online dealers, please view our detailed article: How Our Piano Cover Materials Outperform the Competition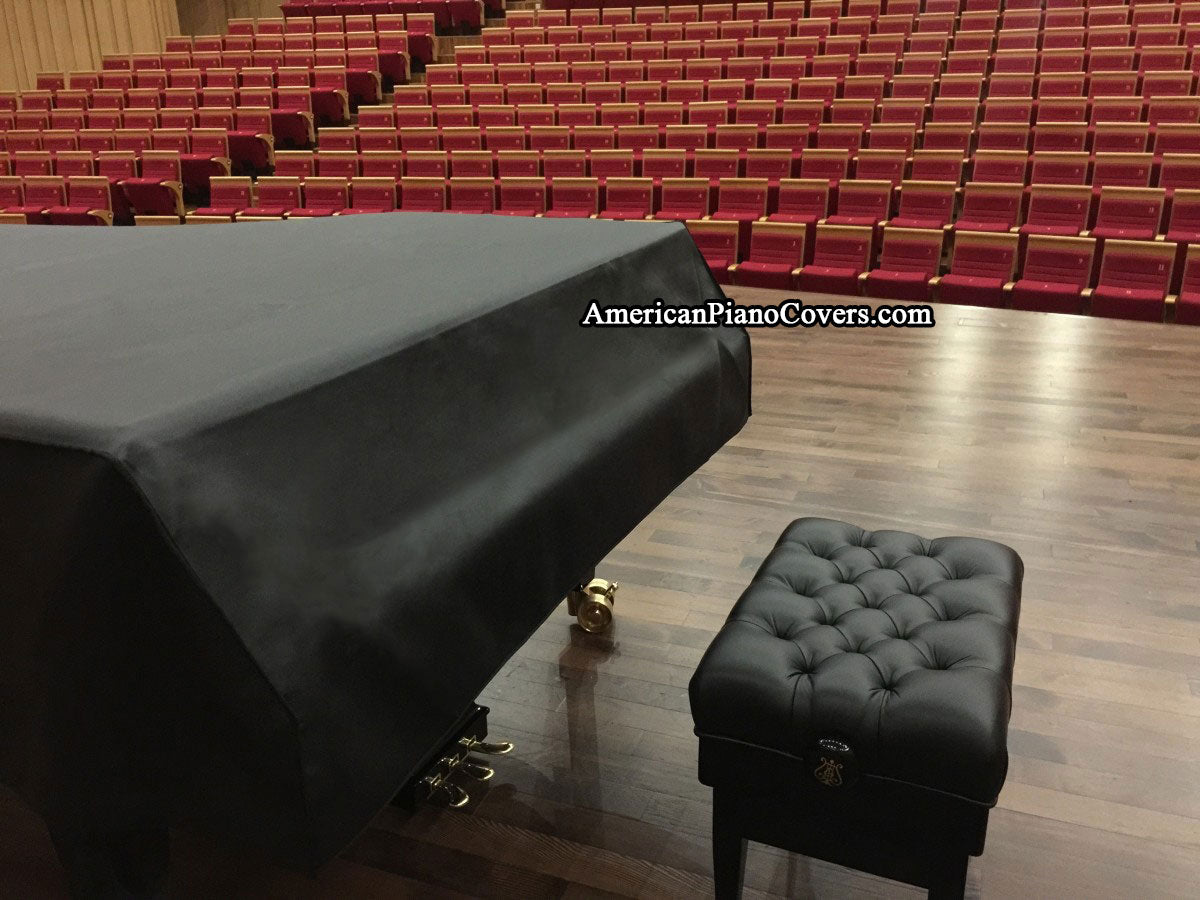 Vinyl
A heavy leatherette, bonded to a soft flannel backing. We use a thick, furniture-grade quality vinyl, that is both visually appealing and very durable. Not all vinyl is created the same--inexpensive covers will use a cheaper, paper-thin vinyl that looks like shiny plastic and will begin to crack and peel over time.
Vinyl is easy to clean and maintain. Anything spilled on vinyl can be easily cleaned with a towel. Vinyl can be dusted easily, wiped with a damp cloth, or vacuumed. Those doing home construction projects, or who live in dusty environments, often choose vinyl for this reason.
Ideal for: environments that need a durable cover that is quickly and easily cleaned, such as church halls, multi-purpose rooms, banquet halls, restaurants, etc.
Not optimal for: pianos that are in direct sunlight (vinyl will trap the heat, causing your piano to go out of tune faster). A note regarding liquid protection. The flat surface encourages people to put their drinks on the piano. We've found that people tend not to put drinks on top of the padded quilted covers, as it doesn't appear stable, removing the concern for spills. For restaurants, bars, and those entertaining at home looking to protect their pianos from spills, we recommend getting a quilted cover.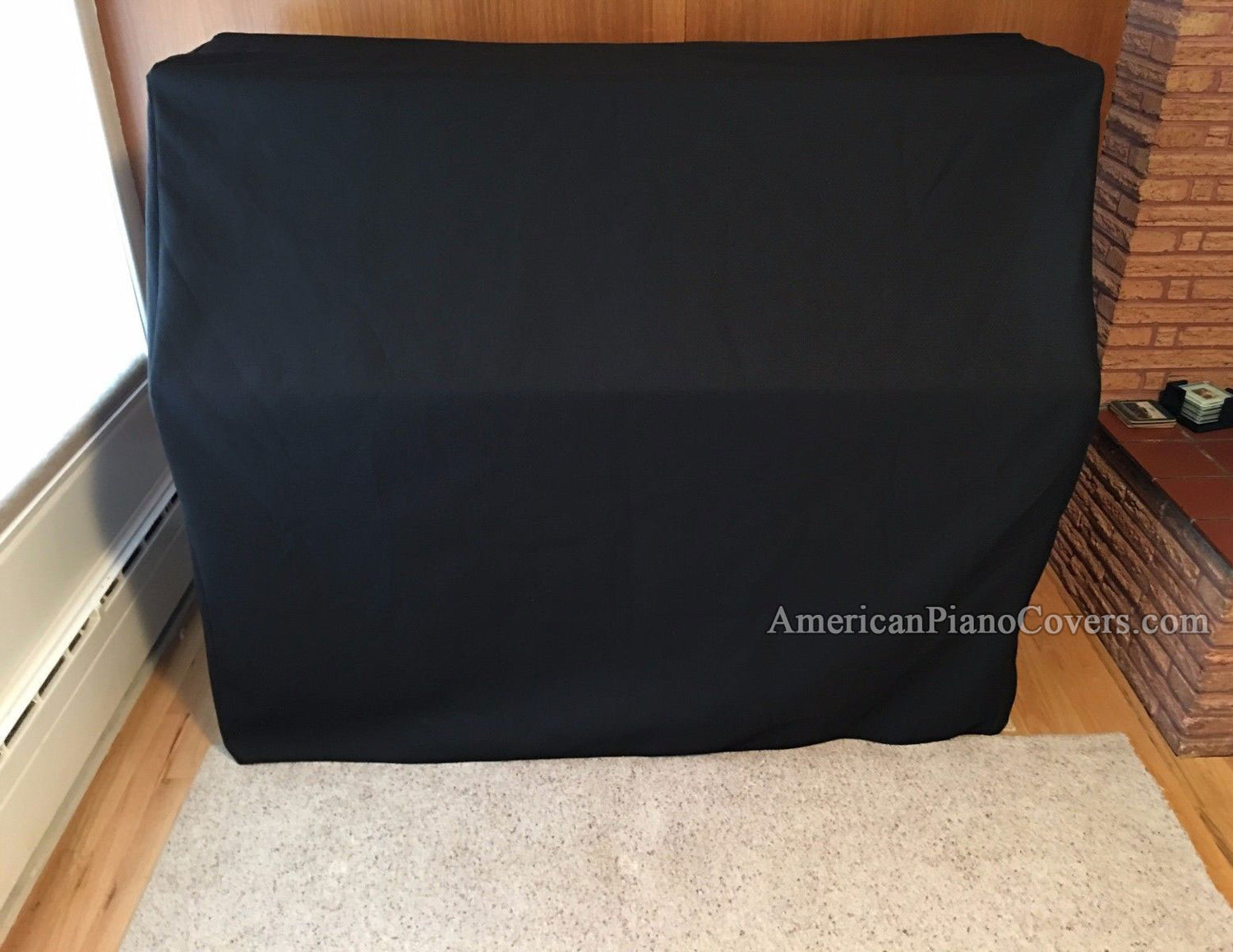 Mackintosh
Mackintosh is a tight-weaved material, known as a "waterproof drill cloth" bonded to a soft lining. Mackintosh is an attractive and popular fabric, as it has a softer and warmer look to it than vinyl. It is not prone to snagging (for those of you with cats who like to jump up on the piano).
Exceptionally tough and durable and well suited for use in schools, churches, theaters, and studios. Mackintosh is thicker than vinyl and offers more protection from bumps and scratches. Note that we also offer a heavy-duty quilted mackintosh piano cover, which offers the most padding and protection of all fabric options.
For those looking for a non-quilted piano cover, this is our most popular non-quilted selling material.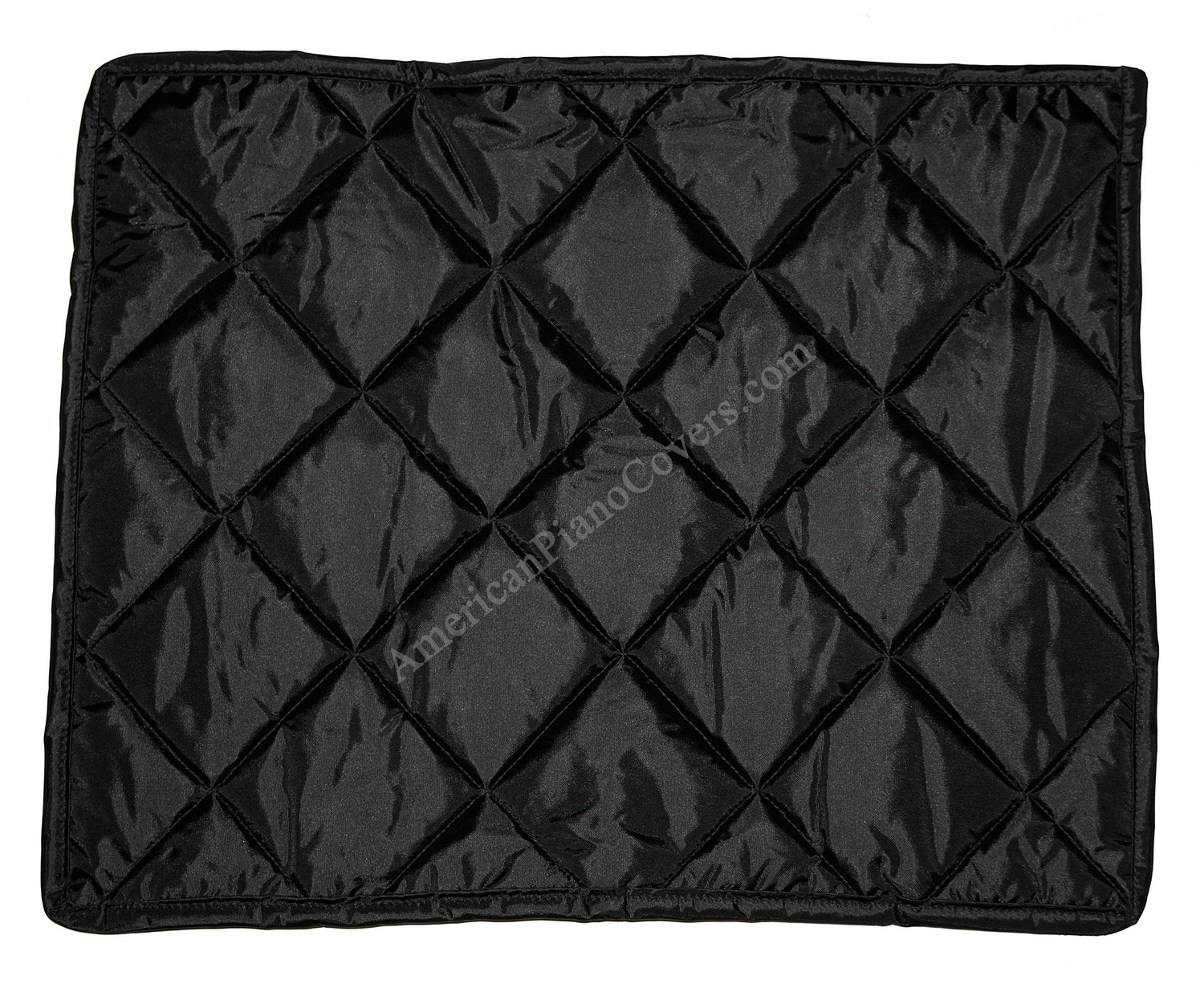 Standard Black Quilted Nylon
Combines a black nylon face material with an inner material of white poly cotton flannel. Thickness: 3/8", with a 4" quilting pattern. Quilted covers provide the ultimate dust and scratch protection plus padding from mild blows to the instrument. Quilted covers are generally considered more attractive than non-quilted covers, making them our most popular sellers.
An additional benefit of a quilted cover is that it can be used to help reduce sound. With the slits in the cover, you can flip the front part of the cover over, and still play the piano. For those in apartments and areas where noise can be a concern, a quilted cover can be a great way to help reduce the sound.
Note many of our competitors use a smaller 1" diamond pattern. We have experimented with different size diamond patterns, and found the 4" pattern to be the most visually appealing size, as well as allowing for the most padding to be inserted.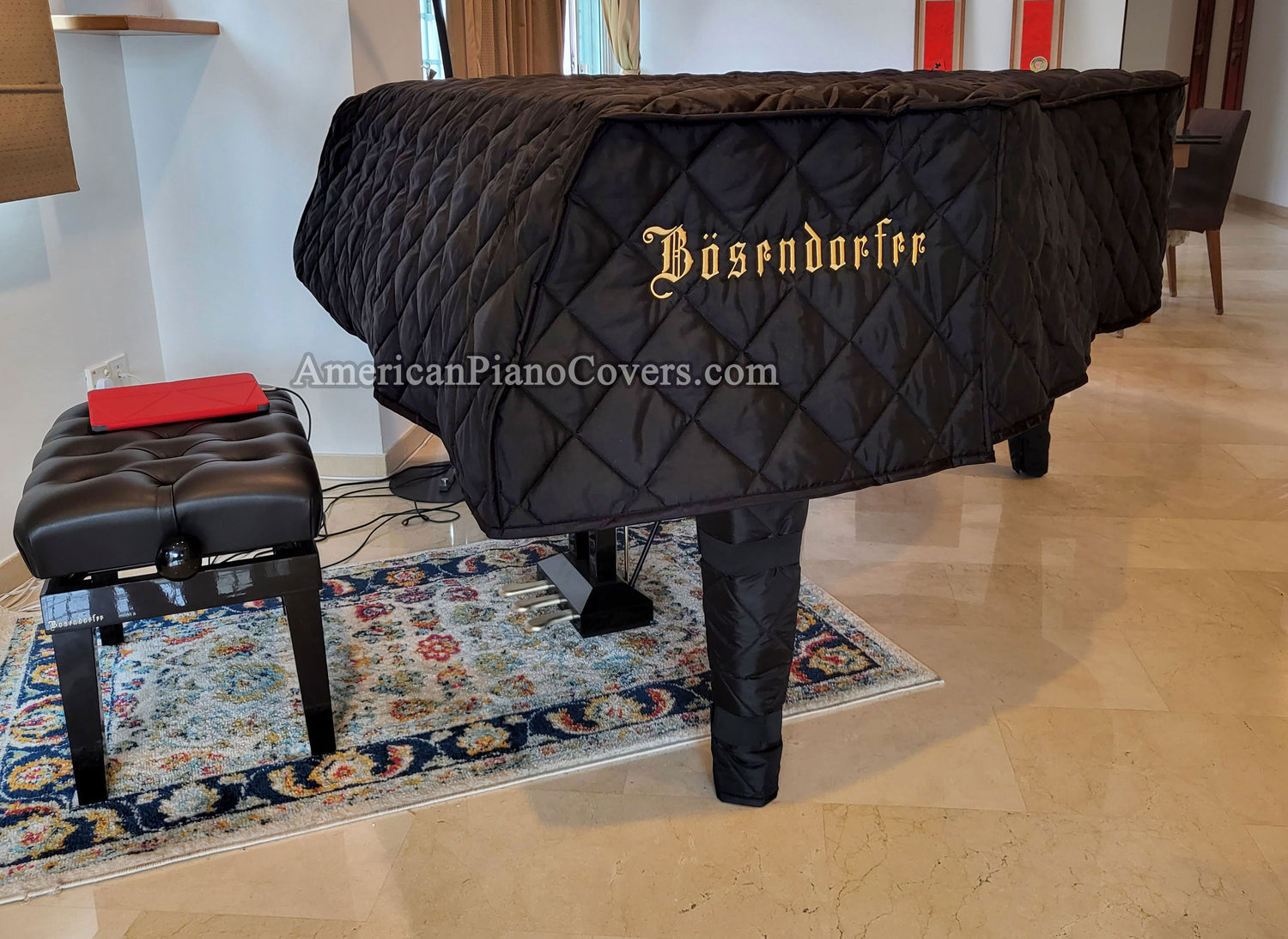 Premium Quilt
Our most popular material--and the highest quality, most elegant cover on the market. Combines a premium-grade black or brown nylon with a 100% cotton flannel backing. The material is water-repellent, and 1/2" thick (compared to the 3/8" thick standard quilt). Quilting pattern is 4". If there is a chance of spilling liquid, you would want the premium quilted material, as opposed to the standard quilted listed above. This premium material will not soak up water spills as easily as the thinner standard nylon.
The premium quilted piano cover is extremely attractive and luxurious, adding elegance to the room. It's thick padding is also great for preventing physical damage to the piano, as compared to a vinyl or non-quilted mackintosh cover. Quilted covers are easy to dust using a towel.
The premium quilt "breathes" more than the other materials, and thus does not trap heat like the other covers (which will cause your piano to go out of tune faster). This is the ideal option for those in warm climates, or if your piano is exposed to direct sunlight.
Standard Quilt vs Premium Quilt
The premium quilt is considered the most attractive cover material, and is ideal for locations where aesthetics matter (homes, churches, concert halls, etc.). In our opinion, it is worth the upgrade over the standard black quilted nylon material. When compared side-by-side, you can tell that the premium quilt uses higher quality materials--both the inner-lining and outer nylon. We set out with the goal of offering the best piano cover on the market, and spent a lot of time working with material suppliers and reviewing options--and we believe we've met that goal. Our premium quilt is the most elegant-looking cover made, and you do get what you pay for.
Alternatively, the standard quilt is still a quality cover material option, and far surpasses any material used on the imported Chinese covers you will find on competing websites. It has its place when cost is a factor or if you're in a situation where you do not need the best in terms of look or feel. We've been selling the standard quilted nylon material for over 15 years.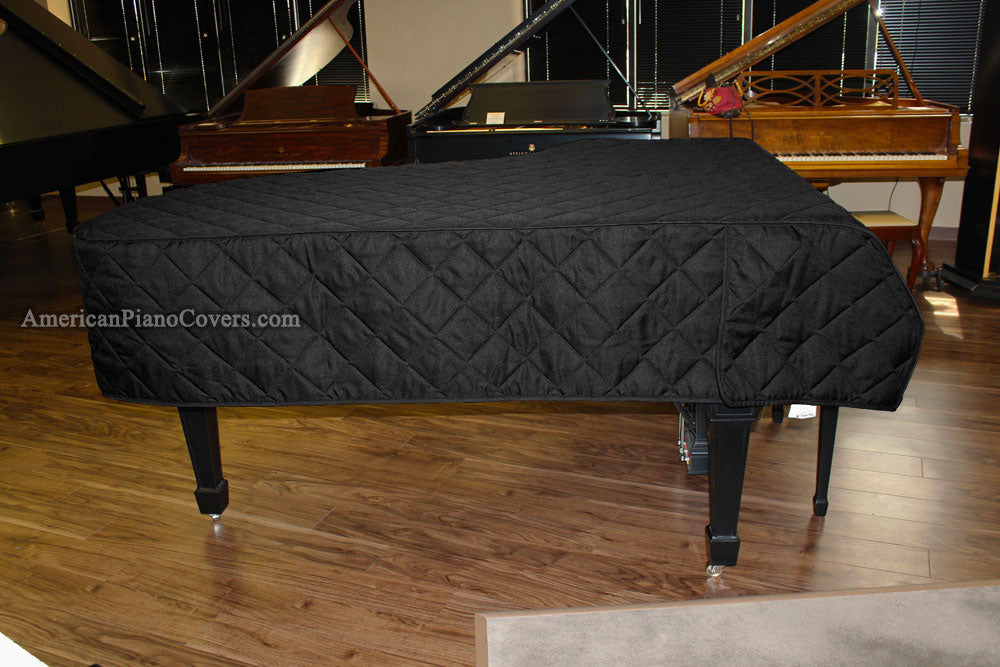 Mackintosh -- Heavy Quilted
An extremely rugged but attractive cover that is made with heavy mackintosh on the outside, and a soft cotton material on the inside. Mackintosh is a tight-weaved material, known as a "waterproof drill cloth" bonded to the soft lining. The strongest and most durable of all the fabric options, it is not prone to snagging, and thus is the option we recommend for cats or high-traffic areas. The quilted pattern is 4". The ultimate in protection from physical damage, this material option offers the most padding of all materials. It is also the best material if you're looking for sound dampening.
Ideal for locations that need an attractive cover that offers the most padding combined with the most durable materials, including universities, schools, churches, studios, hotels, theaters, areas of high people traffic, frequent piano movement, and piano storage. Also the choice for cat owners and those wanting to dampen the sound of their piano.
Piano Cover Color
In general, if you have a black piano, you should get a black piano cover. Walnut and Mahogany pianos should typically go with a brown cover, but the contrast with a black cover also looks great. The overall aesthetic of the room where the piano is located is also a consideration. Look at the existing color scheme, furniture, and decor to ensure that the piano cover will harmonize with the surroundings (for example, if your room has warm, earth-tone colors, a cloth couch and other fabric covered furniture, then a brown cover might look better regardless of the color of your piano). If you prefer a cohesive and unified look, choose a color that complements or matches the dominant hues in the room. On the other hand, if you want the piano cover to make a statement or serve as a focal point, opt for a contrasting color that adds a pop of visual interest.
While most fabric options are available in black or brown, vinyl also comes in burgundy, white, and beige color options, allowing you to closely match the style of your room. If you have vinyl or leather furniture, you may also want to get a vinyl cover as well.
The Difference of Fabric Weight
The weight of a piano cover can be a concern for those taking it on and off, though in general, all the covers should be easy to handle. Quilted covers are the lightest and easiest to remove, making them a favorite among our more mature customers. It is also a great option for nursing homes and church groups. Vinyl covers are heavier than quilted covers, but should not be an issue to take on and off for the vast majority of users. An older individual would not have an issue removing the cover to play for church, for example. Mackintosh is the heaviest of the 3 materials, and is designed to be used in places where extra protection is needed (schools, churches, etc). Again, the weight of the cover will not be a concern for most customers.
Keep in mind that covers cannot be made too thick or heavy, as they would hold too much heat next to the piano and cause it to go out of tune.
Something to consider is that while the weight may not be an issue, having to move a bulky cover long distances can be a bit of a hassle. In these situations, we would recommend getting the side slit option on your cover. This allows you to flip over the front of the cover to play the piano, without having to take the entire piano cover off.