Our Conn organ covers are made of the same high quality materials used by our famous grand piano covers. Manufactured in the United States, we will custom make the cover to fit your organ. If you're looking for a cover that provides the most padding and protection, we recommend the heavy quilted mackintosh material.
Conn Organ Cover Models and Sizes:
Caprice 430:

34"H x 21"D x 46"W

Minuet 540:

34.5"H x 22"D x 47"W

Rhapsody 625:

38"H x 29"D x 51"W

Serenade:

38.5"H x 31.5"D x 54"W

Model 630, 631, Theater 640:

41"H x 33"D x 56"W

Artist 720 (New):

41.5"H x 34"D x 56"W

Classic 820, 821: 43"H x 36"D x 56"W

If you do not see your model here, we recommend ordering from our generic organ cover page, where you can fill out the template measurements and have a cover custom made to fit your organ.
Covering the organ bench:
For the fabric organ covers, you have the option of it covering the organ only, or the organ and the piano bench, when the bench is pushed up against it. If you want it to cover the bench as well, select the "Yes - Cover the organ AND piano bench" option in the drop down menu. We will need to know the height and width of the bench, and how far it sticks out past the organ (when it is pushed up against it).
Share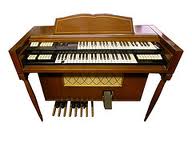 Material Choices
The foundation of a piano cover is the quality of the materials used. We have spent years working with American material suppliers, carefully reviewing and selecting the finest materials for their aesthetic appeal, protection, durability, and functionality. We are confident that we offer the highest-quality, most attractive fabric options on the market.
Piano Cover Material Guide
Want help deciding between material choices? Click below for a detailed description of each fabric choice.
Shipping
Shipping on all organ covers is free to the continental United States. Shipping to Alaska and Hawaii is $79.95 per cover. Shipping to Canada is $89.95 per cover. International customers, please email us for a shipping quote.